Beth Terwilleger (artistic director/choreographer) grew up in Santa Cruz, California, and always felt free to allow her imagination to thrive. She spent her early childhood years creating worlds, theatrical performances, and dance extravaganzas. At a young age she was introduced to ballet and immediately fell in love. So driven by this new passion, she forgot her roots were truly planted in creation and not personal performance. After spending ten years with a ballet company in Austin, Texas and freelancing in San Francisco and London, she has re-found her roots in Seattle and spent the past year passionately exploring, generating, and supporting dance works here in this city. She had once thought that this imaginative part of her brain was left in those childhood years but is excited to have found that it does still exist through her choreographic practice.
Beth has been described as having "a creative curiosity only matched by her ambition" (Gedney Barclay, Velocity Dance Center) and since the inception of The Gray a year ago, Beth's work has been presented all over Seattle. She started at Velocity Dance Center presenting a new work through Velocity's co-production program. She then continued to receive support from Velocity Dance Center through her participation in their 2019 Winter Bridge Project program. She has also choreographed works for 12 Minutes Max, March edition, and a mixed bill evening Base Independent Production at Base: Experimental Arts + Space in Georgetown, Seattle. Beth has also had the honor of creating work this year for Converge Dance Festival as well as a split bill performance with Stella Kutz at YAW Theater. She then went on to revisit her first Seattle work, The Midsummer, at Seattle International Dance Festival in June where it was announced she has been awarded acceptance to their prestigious James Ray Residency Program for their 2020 Season. To wrap up her first year creating in Seattle, Beth is "beyond thrilled, humbled, and incredibly honored" to be showing at On the Boards this August. She wants to thank the incredible dance community here in Seattle for their support and inspiration, especially all of the dancers she has worked with over the past year. They are the drivers of artistic innovations and she is forever grateful for them.
Amber Lynne Parker is a Seattle-based lighting designer for theatre, opera, and dance. She is thrilled to be working with Beth Terwilliger again on this piece inspired by one of her favorite authors, and is grateful for the opportunity to collaborate with Jo Blake and Cameo on their respective pieces. Selected recent designs include A Midsummer at Velocity Dance Center, The Good Woman of Setzuan at ACTLabs, Alma and We are Pussy Riot at Theatre Battery, Clean House with As If Theatre Co, Trojan Women: a love story at University of Washington. Her work can next be seen on Pony World's upcoming production of Language Rooms, followed by Eugene Opera's rendition of As One. She holds an MFA in lighting design from University of Washington (2018).
www.amberlights.net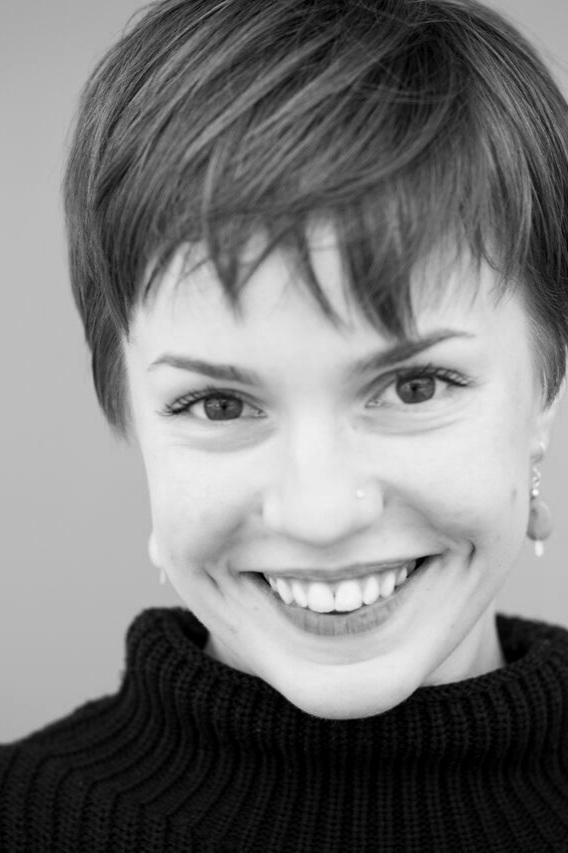 Charmaine Butcher (dancer)'s love of physical and visual art forms developed out of a desire to connect with the people and space around her. As a freelance dancer in Seattle, she has performed with AJnC Dance-Theater, Coriolis Dance Collective, Seattle Opera, Petra Zanki, and Cameo Lethem.
Hannah Cavallaro (dancer) is a California native with a deep rooted love for dance. After attending four different universities, she has graduated with a BFA in dance from Cornish College of the Arts in May 2018. She is a certified Pilates instructor and a freelance dancer/choreographer in Seattle. Hannah currently dances with Michele Miller/Catapult Dance and is delighted at the opportunity to work with Beth Terwilleger/The Gray.
Jane Cracovaner (dancer) received her BFA from the Hartt School. Here she performed works by Martha Graham, Jose Limon, Gregory Dolbashian, and Loni Landon among others. Jane has taken part in the HJS Intensive in Amsterdam, ImPulsTanz, Northwest Dance Project's Launch and was a scholarship student during the Martha Graham School of Contemporary Dance's summer program. As a freelance dancer in NYC she worked with various artists including Gabrielle Lamb's Pigeonwing Dance and Joshua Beamish's MOVETHECOMPANY.
Maia Melene Durfee (dancer) began her dance training in classical and contemporary ballet at Lemon Sponge Cake Contemporary Ballet school under the direction of Robert Sher-Machherndl; later, she began exploring contemporary, jazz, and hip hop with Jenny Schiff, and studied ballet, modern and Embodied Awareness method with Jayne Persch. She pursued her BFA degree at Cornish College of the Arts, specializing in modern, ballet, choreography, and improvisation, performing a wide variety of works in the Cornish Dance Theater. Graduating Magna Cum Laude, she was the recipient of multiple Outstanding Dance Major Awards, scholarships from Kreielsheimer Foundation, Calliope Dance Scholarship, and Merce Cunningham Endowed Scholarship. Over the years, she has done additional training at American Dance Festival, Bates Dance Festival, Trinity Laban Conservatoire London, and San Francisco Conservatory of Dance with a wide variety of artists, Riley Watts, Summer Lee Rhatigan, Alex Ketley, and Alessio Silvestrin to name a few. As a choreographer, her work has been featured at ADF and BDF new works showcases, New Moves Showcase in Seattle, and produced her own evening length work, Liminal, as a dancer, choreographer, costume designer, and pianist/sound artist. Currently, she dances for Catapult Dance Company, The Gray, Yeomna, collaborates with Seattle artists and creates her own work.
Corbin Hall (dancer) hails from Collinsville, Illinois, and graduated from Webster University with his BA in Dance, in the spring of 2016. While there, he learned and worked with such artists as; Beckah Reed, Michael Uthoff, Maggi Dueker, Monica Newsom, and Alicia Graf Mack. During his undergrad, Corbin studied ballet, jazz, modern, capoeira, Thai Classical Dance and aerial. In addition to this, he also found a passion for breakdancing, and hip hop. Corbin moved to Seattle in January, 2017 to pursue Dance performance and choreographic opportunities.
Elizabeth Houlton (dancer) is a dance director, producer and performer based in Seattle, WA. Liz has presented work at Captiol Hill's Art Walk with LoveCityLove, Chop Shop Contemporary Dance Festival, Seattle International Dance Festival, Seattle Fringe Festival, 3rd Shift Dance's Battle for the Dance Belt, Velocity's Bridge Project and Fall Kick Off. Alongside Alyssa Casey produced home home, an evening length at the Erickson Theatre Off Broadway in March of 2018 with collaborators Emma Lawes, Ashley Jade Pietro, Shane Donohue and Maya Tacon. She is a graduate of California Institute of the Arts with a BFA in Dance Performance and Choreography (2015). Liz is also the Dance Director for BenDeLaCreme's Halloween spectacular "Beware the Terror of Gaylord Manor" and produces a podcast called Artist to Artist.
Anna Joswiak (dancer) is a dance artist originally from Chicago, Illinois. She is a previous member of Midwest Dance Collective, a pre-professional dance company under the direction of Ellen Werksman. In 2015 she earned a BFA in Dance from Columbia College Chicago, where she worked with Margi Cole, Paige Caldarella, Colleen Halloran, Liz Burritt, and many others. She has performed at events and venues throughout Chicago, including the Adler Planetarium, the Inaside Youth Summit for the Arts, The Harris Theatre, The Auditorium Theatre, and the Giordano Dance Chicago Collaborative project. She is very excited to be dancing in Seattle and working with Beth Terwilleger and The Gray!
Molly Levy (dancer) is a Seattle-based dance artist originally from Berkeley, CA. She trained at Berkeley City Ballet and SF SotA and graduated from the Ailey/Fordham BFA program. Molly has performed with artists and companies throughout the Pacific Northwest and East Coast including the Seattle Opera, LED, Equus Projects, Kate Wallich's YC2, House of Verlaine, Daniel Costa Dance, Katie Scherman + Artists, and Cameo Lethem. Her work has also brought her beyond contemporary dance into live theater, working with Dacha Theatre as a performer and movement director, and burlesque, performing with Verlaine & McCann Present.
Ivana Lin (dancer) began her dance training at the Pacific Northwest Ballet School (PNBS) at the age of six. In 2008, she had the opportunity to perform with the Alvin Ailey Company during their 50th Anniversary tour. Eventually joining the Evergreen City Ballet's performance division in 2012, Ivana performed the role of Cinderella in Cinderella. She has completed a B.A. in dance as well as a B.S. in Physiology at the University of Washington. She has also had the opportunity to perform with PNBS, the Chamber Dance Company, Bandaloop, Khambatta Dance Company, and now The Gray.
Robert Moore (dancer), from Hamden, CT, began dancing at New England Ballet and continued at Dee Dee's Dance Center and New Haven Ballet. He is an alumnus of Earl Mosley's Institute of the Arts, the Ailey Summer Intensive, Cunningham Trust Workshop, Jacob's Pillow's Commercial Dance Program, and the Complexions Intensive. He went to Mexico with JUNTOS Collective, and taught with Notes in Motion, Arthur Aviles Typical Theatre, and JD/dansfolk. Robert graduated magna cum laude from the Ailey/Fordham BFA Program and has danced with Amanda Selwyn Dance Theatre, The Steps Repertory Ensemble, AATMA Performing Arts, Whidbey Island Dance Theatre, Tacoma Urban Performing Arts Center, Khambatta Dance Company, and Spectrum Dance Theater.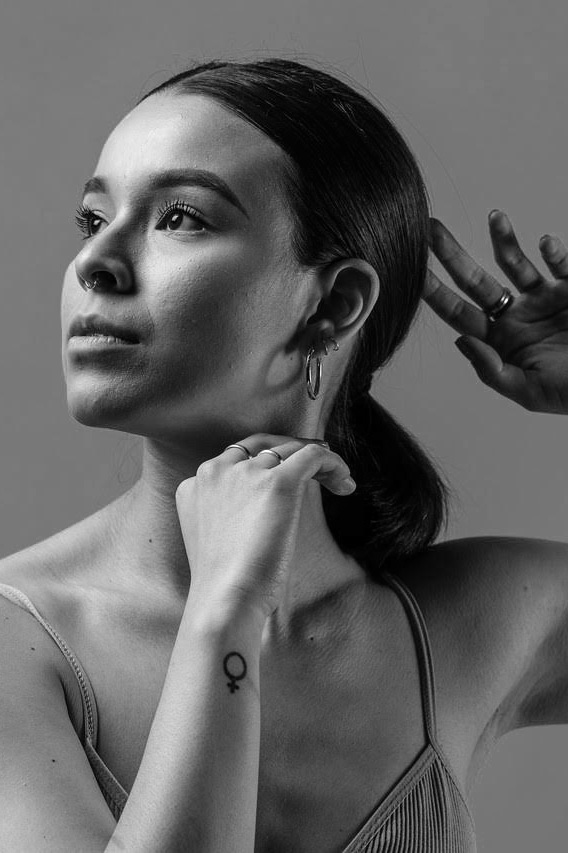 Devin Muñoz (dancer), Seattle based dancer, received her early dance training in Seattle where she graduated from Pacific Northwest Ballet school student division. In May 2017, Devin graduated Magna Cum Laude from Cornish College of the Arts with a BFA in Dance. She has performed in pieces such as The Bridge Project 2019 by Beth Terwilleger, Tint Dance Festival 2019 with Alicia Mullikin and PRICEArts, as well as guest performances with AU Collective. When Devin isn't dancing she spends her time creating dance films and collaborating with local dancers through photo series.
Meredith Pellon (dancer) is a graduate of the BFA dance program at The University of the Arts, where she performed works by artists including Paul Matteson, Eiko Otake, Faustin Linyekula, and Jillian Peña. Her work has been featured in Pennsylvania Ballet II: En Avant and Koresh Artistic Showcase in Pennsylvania, as well as in Ballet Inc.'s The Series, and Jennifer Muller/The Works HATCH Presenting Series in New York City. Since relocating to Seattle, Meredith has presented work at Performance Lab at On The Boards, Converge Dance Festival, Monomyth I (produced by Tuya Vale Artist Collective) and Seattle International Dance Festival. In July 2019, Meredith curated, performed, and choreographed for an evening-length site-specific dance show entitled Soft Concrete, held in partnership with Jack Apartments. She has also danced for Allison Burke, Beth Terwilleger, Jenny Boissiere and Elise Meiners Schwicht. In addition to dancing and choreographing, Meredith writes reviews for SeattleDances
Thomas Phelan (dancer) is originally from Fort Collins, CO, where he received his BFA in Performing Arts. His physical artistic pursuits include, but are not limited to, classical ballet, modern, jazz, contemporary dance, circus arts, and acrobatic partnering. Performance credits include Alaska Dance Theatre, Whim W'him, House of Verlaine, The Can Can Cabaret, The Cabiri, Coriolis Dance, Khambatta Dance Company, and Alana O Rogers. He loves art.
Alicia Pugh (dancer) began her formal dance education at the age of 6, when her mom and dad decided it was time to put all that energy twirling around the kitchen, into a dance studio. Pursuing this training took her all over the country: Boston, Chicago, San Francisco, and lastly Seattle. Nowadays, when she's not working on her chef's skills, or taking her cat on walks, Alicia is thrilled to be working with artists of the likes of Beth Terwilleger!
Ana Puzycki (dancer), originally from Central Pennsylvania, is a Seattle-based dance artist who lives mostly in the world of contemporary movement. In May of 2017, she graduated from Pennsylvania State University where she earned concurrent degrees in Dance and Psychology. Ana spent two years working with Pennsylvania choreographer Michelle Dunleavy as a collaborative performer in a site specific project, 'BLAST!' that occurred at Carrie Furnace in Pittsburgh, Pennsylvania. Additionally, Ana performed in the Dublin Dance Festival 2015 as a member of Penn State's University Dance Company. Since moving to Seattle Ana has worked with choreographers: Melissa Sanderson, Emily Curtiss, Hope Goldman, Christopher Peterson and Christin Call (Coriolis Dance). Additionally, Ana is the 'ana' part of Seattle-based performance duo: tiffana.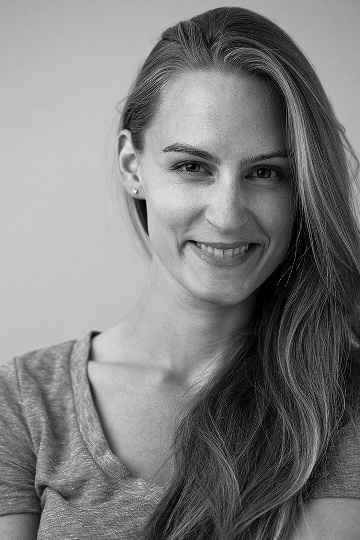 Marissa Quimby (dancer) Marissa Quimby received her professional training in her home state of Connecticut at the School of Performing Arts and FineLine Theatre Arts. She migrated to Seattle in 2007 and since then she has crossed genres around the local arts scene to perform with Spectrum Dance Theater, 5th Avenue Theatre, Seattle Opera, Verlaine and McCann productions, Alana O Rogers Dance Company, House of Verlaine, Can Can Productions and Coriolis Dance.